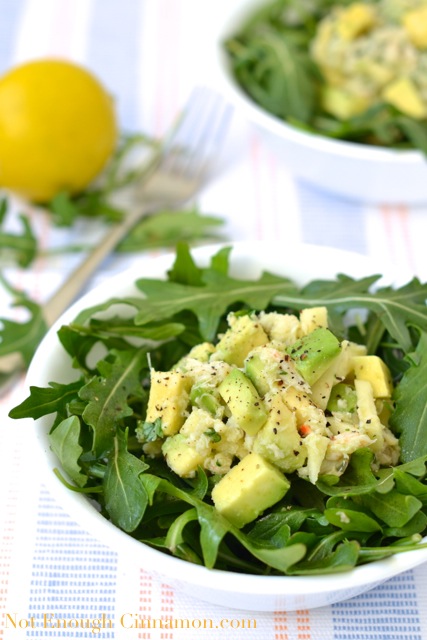 If there's one thing my diet lacks, it's definitely fish and seafood. It's not that I don't like it, but buying good quality and tasty fish can sometimes be a difficult task. My local grocery store carries only thawed fish that really doesn't taste good and I didn't find a fish store in my neighborhood that doesn't cost an arm and a leg. I'm not complaining at all – Sydney is blessed with amazing fresh food in general. But buying fish is not as convenient as buying veggies, fruits and meat – at least where I leave. I wish I could eat some at least twice a week but instead, it's more every other week. We'll visit the Sydney Fish Market again while my mum is here but meanwhile I have to deal with what I have on hands. When I spotted this recipe for Crab and Avocado Salad in the french magazine Elle à Table my mom brought me, I ran to the store and bought myself a can of crab meat to make it ASAP. It's your usual crab salad but with added flavors, a je ne sais quoi that makes it totally delicious. The perfect refreshing salad for summer. And perfect also for all of us who live down under, because clearly, Australia has no idea what winter really is
As I'm talking writing this, the sky is absolutely cloud-free, there's a beautiful sun shining and it's 65F. Not too shabby considering we're in the middle of 'winter'…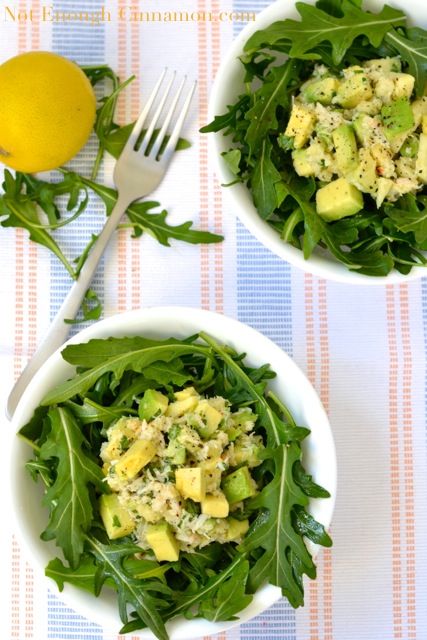 Ingredients
8 cups arugula
1 small can of crab meat (fresh crab is even better!), drained
1 avocado, cubed
1 apple, peeled and cut into small cubes
1/4 cup fresh cilantro, chopped
the juice of 1 lime
1/2 tbsp Dijon mustard
Pepper
Directions
In a bowl, combine crab meat, avocado, apple and cilantro. Add lime juice, olive oil and Dijon mustard, season with freshly ground pepper and mix well.
Arrange arugula in 4 plates (about 1 1/2 cups per plate) and top with crab mixture.
Notes
If you want to make this salad ahead, prepare all the ingredients except avocado. Add it to the mixture at the last minute.
http://notenoughcinnamon.com/2013/07/22/crab-and-avocado-salad/
You might also like: 
Mango, Shrimp and Arugula Salad