This Artichoke Hearts Glazed Chicken Thighs recipe is so tasty I can honestly say it's my favorite chicken dish so far. It's simply that delicious. Plus, who doesn't love a 3-ingredient meal, ready in 20 minutes, and that uses only one skillet?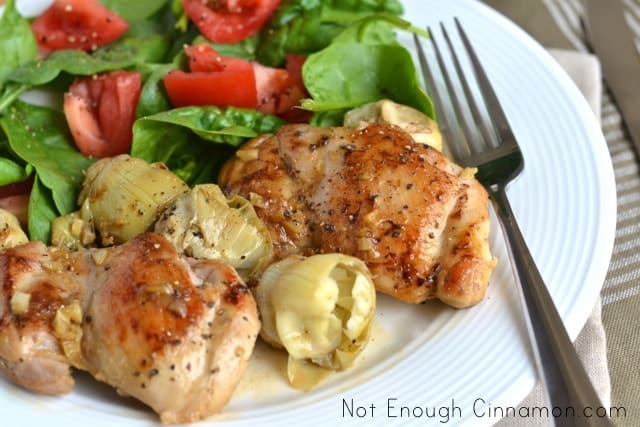 I would not be honest if I'd take full credit for it though. I first came across a similar recipe on SkinnyTaste and I thought chicken and artichokes were a nice combination of flavors. I kept the main ingredients except feta, but made the rest of the recipe completely differently. I used the stovetop instead of the oven (Australia + summer + oven= not a good idea). I also decided not to marinate the chicken in the artichoke juice but instead make a glaze with it. Anyway, no matter what I say, just give this recipe a go, I'm sure you'll love it.
Artichoke Hearts Glazed Chicken Thighs
Calories: 217 - Protein: 29.7g - Fat: 8.5g - Carbs: 4.5g - Sugar: 2.75g - Fiber: 0.3g - WW Old Points: 5 pts - Points+: 5 pts
Ingredients
2 tsp (1 tsp + 1 tsp) olive oil
3 garlic cloves, minced
10 oz jar marinated artichoke hearts, about 10 hearts (don't toss the liquid!)
4 skinless, boneless chicken thighs
Directions
Heat 1 tsp olive oil in a non-stick skillet, on medium-high heat.
Cook garlic for 1-2 minutes. Remove from skillet and set aside.
Add artichokes hearts (without liquid) to the same skillet and cook about 1 minute, or until slightly browned on each side.
Add an additional 1 tsp olive oil and brown chicken about 1 minute on each side. Reduce to medium-low heat and cook until no longer pink but still slightly undercook, about 4 minutes.
Pour artichokes liquid, bring to a boil and cook until liquid turn into a thick glaze (careful not to burn it!), about 3 minutes.
Return artichokes and garlic back to the skillet and cook an additional 1 minute.
Serve immediately with veggies and some rice on the side.
Notes
I ended up eating only one thigh, and that was plenty for me. However Solal, my boyfriend did eat 2. You'll need to adjust the servings to your family's appetite!
http://notenoughcinnamon.com/2013/01/28/artichoke-hearts-glazed-chicken-thighs/