When I'm cooking, I like to make everything from scratch. It tastes way better than anything you could ever buy from the store, and I love to know exactly what I'm putting in my food.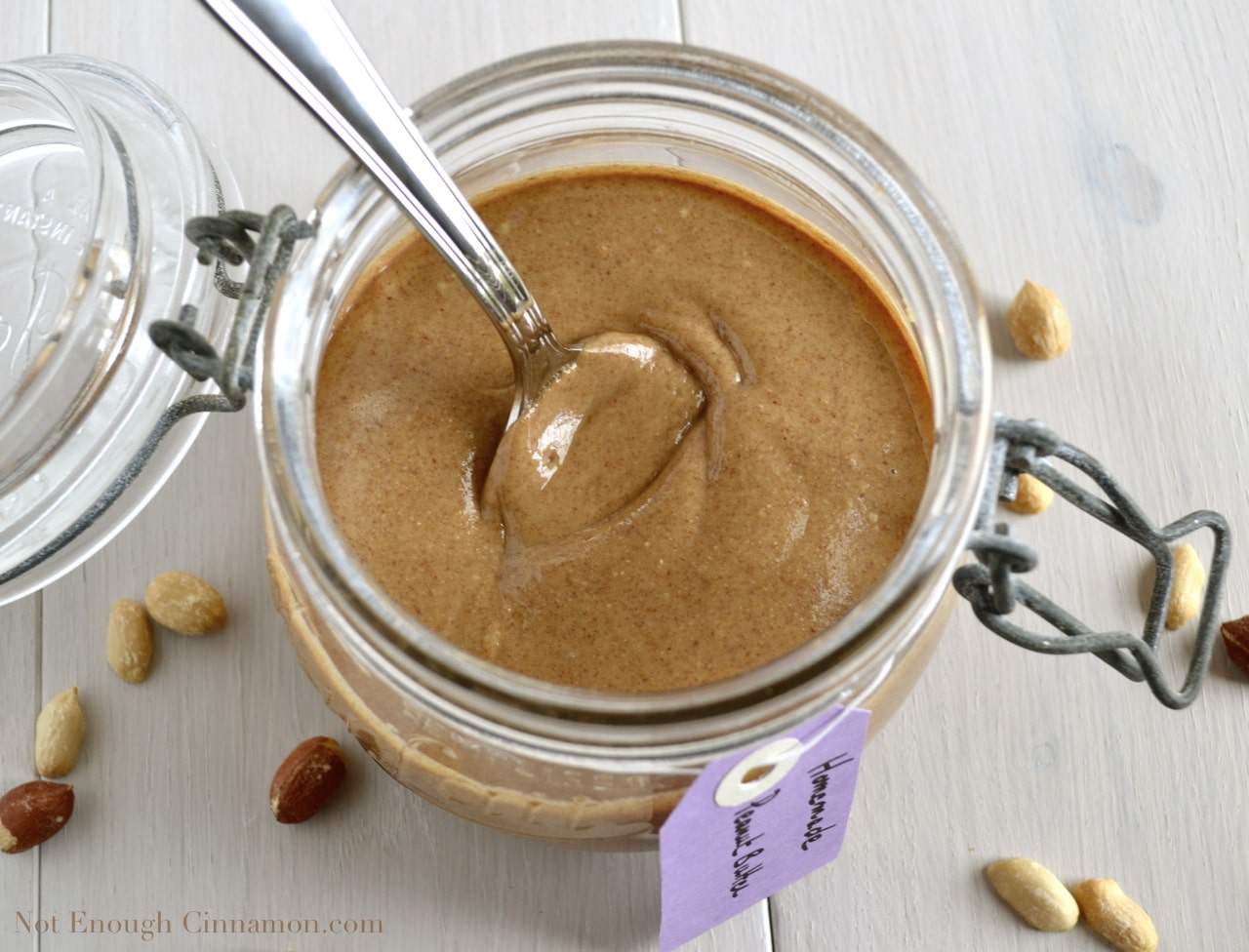 So the other day, I tried making my own peanut butter. What could be more delightful than homemade peanut butter? I am a big fan of PB. And I mean BIG. I'm the kind of girl who eats peanut butter right from the jar. Several times a day. Hmm I know, that's bad. Very bad. But I can't help it. Anyone out there that can relate? Thank you.
But you know what? The guilt isn't so bad because there's no added oil in this homemade peanut butter. Nope, no oil. That's not necessary in that recipe.
Well, we can hardly call that a recipe. Basically there's only 2 steps. Put peanuts in the food processor, pulse on high power for a few minutes, and eat. Tada! You can make it more personal by adding some flavorings (honey, salt, alcohol…) and/or by choosing different types of peanuts. But anyway, I think even a child could do homemade peanut butter.
Need another reason to make homemade peanut butter? You'd be able to make those amazing Chocolate Covered Frozen Banana and Peanut Butter Bites. Check this pic and let me know if you're still hesitating.
Cal: 103 - Protein: 4.7g - Fat: 8.9g - Carbs: 2.9g - Fiber: 1.5g - Sugar: 37.2g - Old Points: 2 pts - Points+: 3 pts
Ingredients
3 cups peanuts of your choice

(I used salted peanuts)
Directions
Put

peanuts

in a food processor.
Process on high power for about 5 minutes or until you obtain the desired consistency. Scrape down the sides with a rubber spatula during the process if needed.
Transfer peanut butter in a airtight container and store in the fridge.
Notes
Your peanuts will come through different stages : crushed, powder, paste, thicker paste and finally creamy paste. It may take longer than 5 minutes depending on your food processor. Keep processing until you get a perfect peanut butter. If your processor is becoming too hot, take a break and start again when it has cooled down.
http://notenoughcinnamon.com/2012/08/15/homemade-peanut-butter/