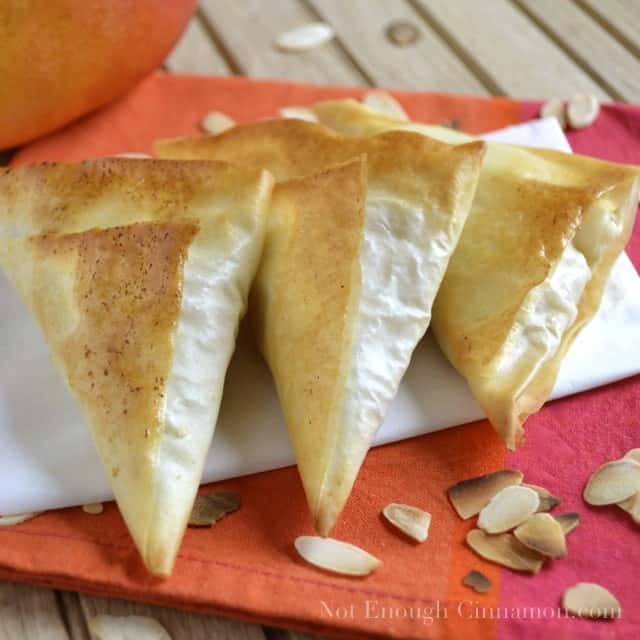 Today is friday (yay!), and I like to post desserts recipes on fridays. It's the end of the week and we all deserve a little treat. Well, some of you are probably on vacation. But still, you deserve a little treat. There's always an excuse for that, right? Don't you think it's the best way to start a lovely week-end? Well, I do!
The treat I'm talking about here are delicious baked mango samosa with toasted almonds. Sounds yummy, doesn't it? It know what you're thinking: are samosa supposed to be sweet? Actually, I'm not sure, but…who cares! The idea is the same, it's just the filling that's different from what you're used to.
I chose to bake them, instead of deep fried them, and you obviously understand why. (In case you don't, it's like a zillion fat that won't go directly on your hips. You're welcome). Yet, they are still crunchy, no worries! Speaking of our waist, I like the fact that you can totally control how much you eat: this triangle-shaped dessert makes portion control super easy! And if you just don't care about all that, well you can still eat the whole thing, I won't tell.
One last thing before you can finally see the recipe. The filling is super yummy. It's loaded with spices like cinnamon (that's to be expected on my blog, right?), nutmeg, ginger and clove, and with toasted almonds. Yes, I said toasted, don't skip that part, that makes all the difference. Check out this article if you don't know how to toast nuts and almonds.
I didn't had to add any sugar because my mango was super ripe and very sweet. Choose the perfect mango thanks to this article.
Too hot to turn on the oven? Cool down with my Fresh Strawberry Granita!
Cal: 93.7 - Protein:1.7g - Fat: 4.3g - Carbs: 12.7g - Fiber: 1.1g - Sugar: 5.2g - Old Points: 2 pts - Points+: 3 pts
Ingredients
For the filling:

1 mango, peeled and cubed
1/4 tsp ground cinnamon
1/8 tsp ground ginger
a pinch of ground nutmeg
a pinch of ground clove
1/4 cup sliced toasted almonds
1 tsp sugar or substitute

(optional, only if mango isn't sweet enough)

For the dough:

6 phyllo dough sheets
2 tbsp unsalted butter, melted
Directions
Preheat oven to 400F
In a medium bowl, add

mango

,

spices

_(cinnamon, ginger, nutmeg and clove)_,

sugar

if needed and

toasted almonds

. Combine carefully, paying attention not to break the almonds. Set aside.
Using a knife, cut 4" wide

phyllo dough

stripes. Brush one side only with

melted butter

.
To form the samosa, layer two phyllo stripes, buttered side on the

outside

. Place approximately one heaping tablespoon of mango almond mixture on phyllo stripes, and fold stripes into triangles (see that video for an example)
Place samosas on a Silpat or baking sheet, and bake 10 minutes. Serve warm.
http://notenoughcinnamon.com/2012/08/10/baked-mango-samosa/
Have a lovely week-end everybody!